What is Arbovirus?
More than a hundred arboviruses are known to cause human disease and are transmitted to humans by mosquitos, midges, sand flies and ticks. Endemic arboviral infections are most common in the late summer months when the temperatures are warmer and especially following periods of rainfall. Typically, mosquitoes, ticks and other vectors are more active during such times. Rift Valley fever-; West Nile-; Sindbis-; Chikungunya-  and Crimean-Congo haemorrhagic fever viruses are important arboviruses in South Africa, although other arboviruses are also found in South Africa.
Arboviral disease may be underdiagnosed and underreported in South Africa. Many arboviruses are not endemic to South Africa, but in the South African context are associated with travelers returning to South Africa from endemic areas. This includes, but is not limited to, dengue-; Zika and yellow fever viruses. Although chikungunya virus is endemic to South Africa, human cases in South Africa are usually travelers from other areas endemic for the virus.
Symptoms
The majority of arboviral infections are subclinical and self-resolving infections, but the disease spectrum is wide and disease may be debilitating and even fatal. Arboviral disease is broadly grouped according to four broad syndromes including fever, polyarthralgia, encephalitis and haemorrhagic fever, and a virus may be involved with more than one syndrome. Symptom onset can range from three to 14 days after the exposure.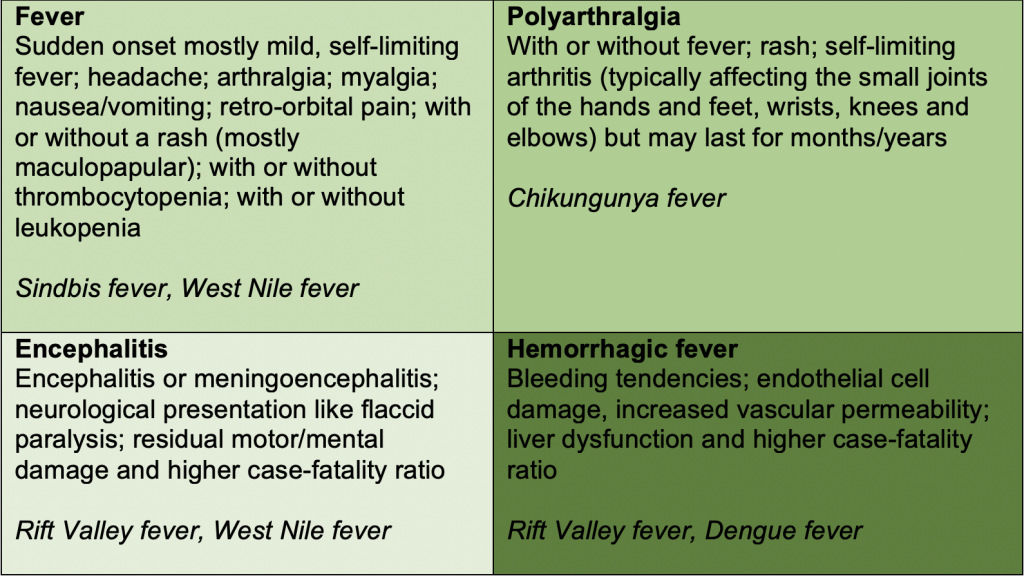 Diagnosis, treatment and prevention
Specialised laboratory diagnostic investigation for arboviral diseases is required to confirm or exclude diagnosis. Typically, the viraemic phase of arbovirus infections are so short (may be prolonged in more severe cases) and negative RT-PCR results does not exclude the diagnosis of an arbovirus infection. Antibodies to arboviruses may be detected from day 3 – 7 after symptom onset. If initial antibody tests are negative, it is recommended to test a convalescent blood sample (collected two weeks after the acute phase of infection) to demonstrate seroconversion or the lack thereof. Laboratory findings should be considered in the light of the patient's clinical findings and the possible exposure history.
Notifiable medical conditions
Rift Valley fever and Crimean-Congo haemorrhagic fever in humans are Category 1 notifiable medical conditions in South Africa. Other endemic, or non-endemic arboviral infections are listed as Category 3 notifiable medical conditions in the country.