From 01 September to 30 November 2022, 99 laboratory-confirmed measles cases were reported in Limpopo and Mpumalanga provinces. Laboratory-confirmed measles cases in Limpopo province increased to 77 and 22 in Mpumalanga province, Figure 1. The most affected districts in Limpopo province are Greater Sekhukhune district, Mopani district, and Waterberg district. In the Mpumalanga province, increased Laboratory-confirmed measles cases were reported in the Elukwatini area in the Gert Sibande district.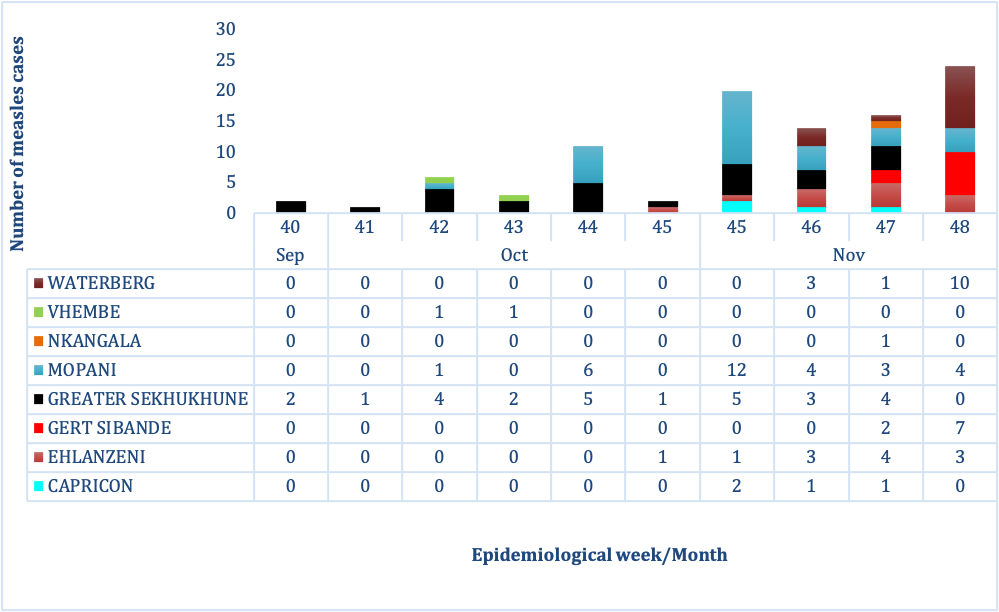 The ages of measles cases in the Limpopo province ranged from 3 months to 42 years, while in the Ehlanzeni district in Mpumalanga province, measles cases ranged from 4 months to 13 years.  The most affected age group is the school-going children, 5-9 years age group (n=37, 37%) in Mpumalanga province and 1-4 years old (n=29; 29%) in Limpopo (Table1). Three laboratory-confirmed measles cases were hospitalized and no measles deaths have been reported in Limpopo province and Mpumalanga province.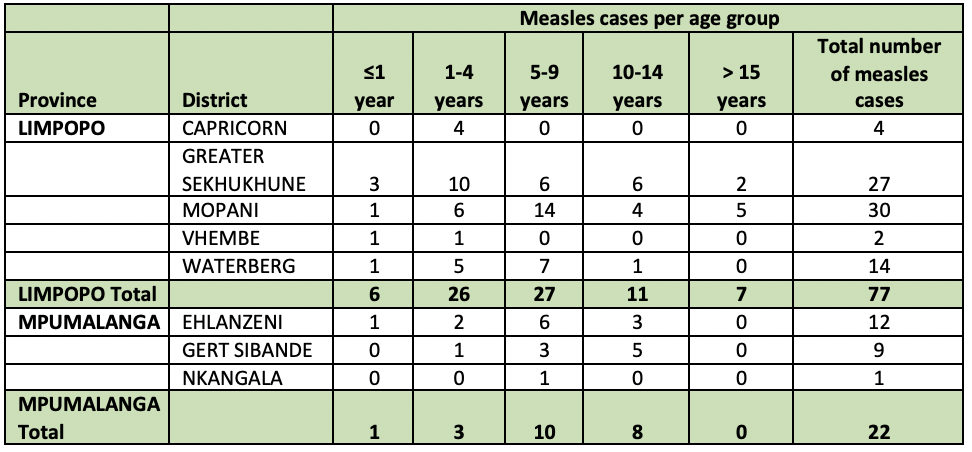 In Limpopo province, 53 laboratory-confirmed measles cases had unknown vaccination histories, 12 did not receive any measles vaccine doses, 10 were fully immunised with two doses, and 2 were partially immunised with one dose. In Mpumalanga province, in 13 laboratory-confirmed measles cases vaccination histories were unknown, 6 did not receive any measles vaccine dose, and 3 were fully immunised (Table 2). Overall, 18 laboratory-confirmed measles cases of the 33 cases (55%) with known vaccination histories did not receive a single dose of the measles vaccine making them susceptible to measles virus infection. Information on why the children are not vaccinated with the measles vaccine needs to be collected to improve the vaccination programme in both affected provinces.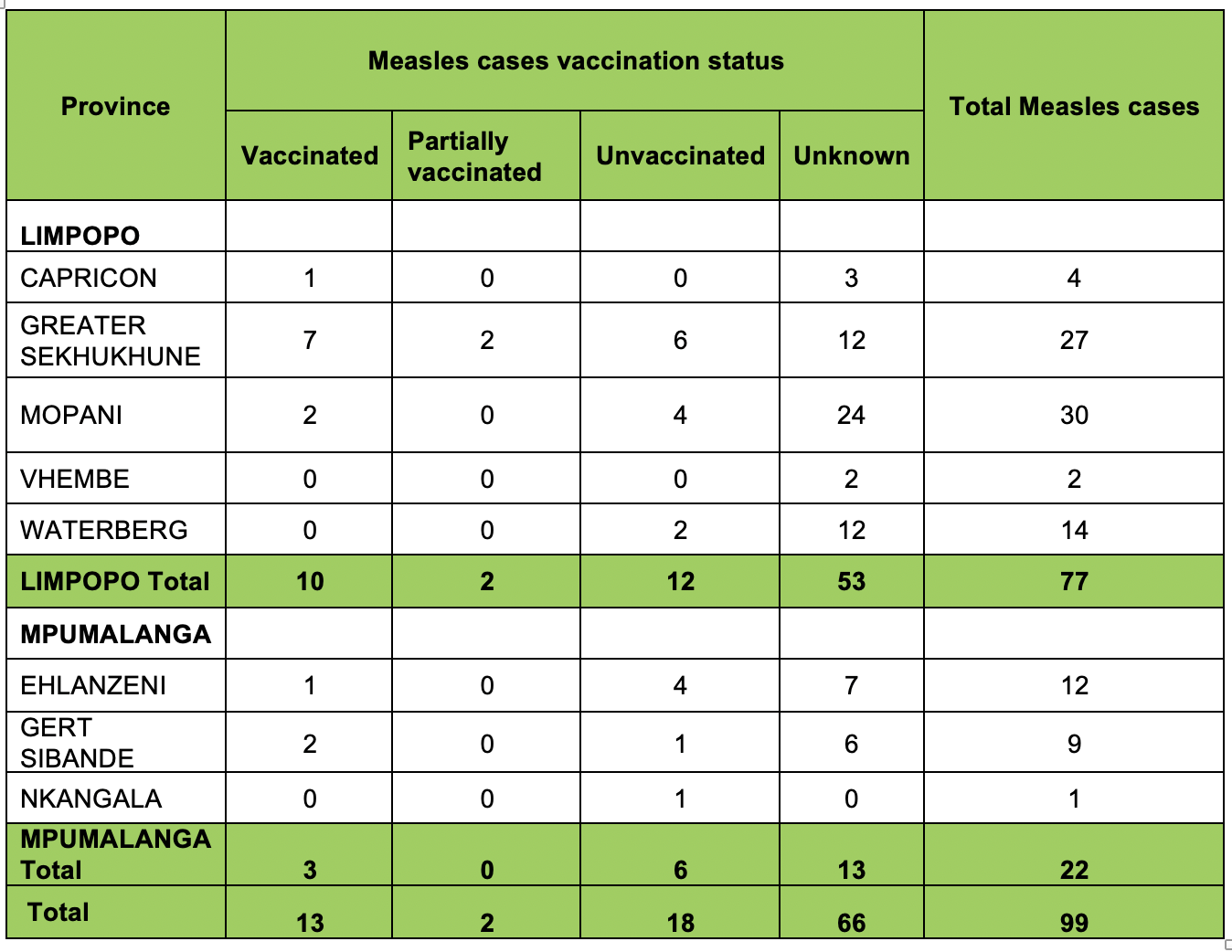 In response to the measles outbreak, affected districts follow up on laboratory-confirmed measles cases and vaccinate contacts.  In healthcare facilities, catch-up measles vaccine doses are given to children who missed their measles vaccinations to increase immunity in the community. The public health response to the measles outbreak in Limpopo province should target improving measles immunity in all five districts. Vaccination of measles case contacts is recommended in Ehlanzeni district to prevent the spread of the measles virus.
Measles patients present with fever, rash, and one or more of the following symptoms cough, red eyes, and runny nose. Complications of measles include pneumonia, diarrhoea, dehydration, encephalitis, blindness, and death. Measles complications are severe in malnourished children and those young infants under 2 years of age. Persons of any age who are not vaccinated can catch measles and develop the disease. Clinicians and caregivers should be on alert for anyone presenting with the above symptoms and signs and check children's road-to-health booklets to ensure measles vaccinations are up to date. Measles vaccine doses are given routinely at 6 and 12 months of age. It is never too late to vaccinate against measles. Suspected measles cases should be notified on the NMC system;  click here to access the notification form
Source; NICD, Limpopo province Department of Health and Mpumalanga province Department of Health