As of 03 November 2022, Limpopo province has two districts affected by measles outbreaks, Greater Sekhukhune and Mopani. Laboratory-confirmed measles cases in the Greater Sekhukhune district have increased to 16 and in the Mopani district to 7. The laboratory confirmed measles cases in the Mopani district were in the Greater Giyani and Ba-Phalaborwa. There was an epidemiological link between two laboratory-confirmed measles in Greater Sekhukhune and three in Mopani.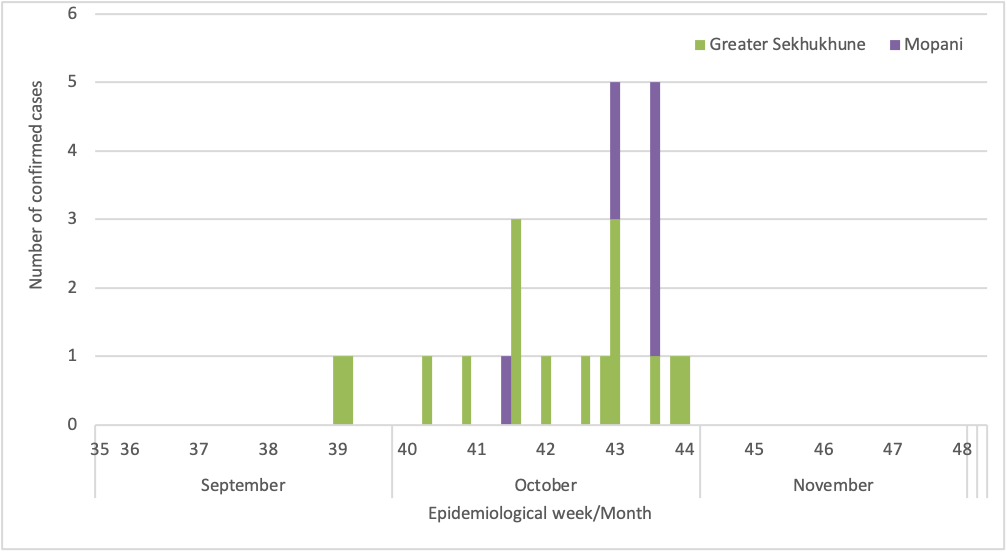 The laboratory-confirmed measles infections were identified in 13 males and 10 females between the ages of 6 months and 24 years in the Greater Sekhukhune district, and 2 to 42 years in the Mopani district.  In combination for both districts, 20 (87%) of the 23 measles cases were below 15 years. No deaths or other complications from measles were reported after two children admitted with the virus were discharged from the hospital. Two children with measles infection were not vaccinated, three were fully vaccinated with two measles doses and eleven the measles vaccination histories were unknown in Greater Sekhukhune district. All seven measles cases in the Mopani district had unknown history.
Affected districts are continuing with the public health response, tracing laboratory-confirmed measles cases and vaccinating their contacts.  A measles vaccination catch-up dose is given in the health facilities for the children who missed the measles vaccination to increase immunity in the communities.

Measles patients present with fever, rash, and one or more of these symptoms, cough, red eyes, and runny nose. Complications of measles include pneumonia, diarrhoea, dehydration, encephalitis, blindness and death. Measles complications are severe in malnourished children and those young infants under 2 years of age. Persons of any age who are not vaccinated can catch measles and develop the disease. Clinicians and caregivers should be on alert for anyone presenting with the above symptoms and signs and check children's road-to-health booklets to ensure measles vaccinations are up to date. Measles vaccines are given routinely at 6 and 12 months of age. It is never too late to vaccinate against measles.
Suspected measles cases should be notified on the NMC system; click here to access the notification form
Source; NICD and Limpopo province Department of Health