OVERVIEW
SEQUENCING CORE FACILITY
The Sequencing Core Facility was established in January 2016. The facility operates Sanger and several next-generation sequencers and maintains a fully equipped laboratory and staff able to perform a variety of sequencing applications. Services  performed include sample preparation and data generation, followed by the delivery of partially analysed sequence information back to NICD centres.
OBJECTIVES
SEQUENCING CORE FACILITY
To provide NGS and Bioinformatics support for surveillance, research activities and outbreak response at the NICD
Expand into the area of core genome pathogens using NGS
Run and maintain a cost effective and a high quality innovative sequencing facility
Stimulate research and training in the both NGS and bioinformatics
 
The NICD Sequencing Core Facility was established in January 2016 to promote and expedite research and surveillance activities at the NICD. The aim is to provide accurate, high quality and cost-effective next generation sequencing (NGS) solutions. The facility currently supports all centres at the NICD in terms of NGS and bioinformatic needs, thus it acts as an extension of every centre with regards to NGS capacity. Since its inception, the core facility has continually engaged in several projects from design to completion. Some key focus areas involve whole genome sequencing (de novo and re-sequencing), custom amplicon sequencing and metagenomics (viral and bacterial). The NICD Sequencing Core Facility currently supports three Illumina MiSeq sequencers, Pacbio Sequel and Illumina Nextseq 550 (coming soon). In addition to NGS, the core facility has a dedicated server (genomics server) for data analysis. The genomics server offers secure, powerful, and flexible bioinformatic computing accessible to all NICD scientists. CLC Genomics Server Core aims to provide a unique and stable software architecture core that makes it possible to apply a range of bioinformatics analysis-solutions on high-throughput sequencing data.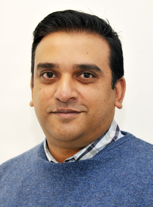 Dr Arshad Ismail is the head of the NICD Sequencing Core Facility.  Prior to moving to NICD, Dr Ismail spent seven years at a private biotechnology company, Inqaba Biotec (PTY) Ltd as the Next- generation sequencing (NGS) Manager.
Through his tenure at Inqaba Biotec he established various NGS applications across different platforms, providing specific solutions in the NGS business environment. Since 2014, he has been employed at NICD as a Medical Scientist heading the Sequencing Core Facility. In this position he has played a vital role in developing NGS solutions for research and surveillance activities at the NICD. These include TB and HIV drug resistance surveillance, HIV antibody research, vaccine epitope identification, molecular epidemiology, viral zoonosis studies and outbreak response